2014 El Nino May Return as Models Signal Warming of Pacific Ocean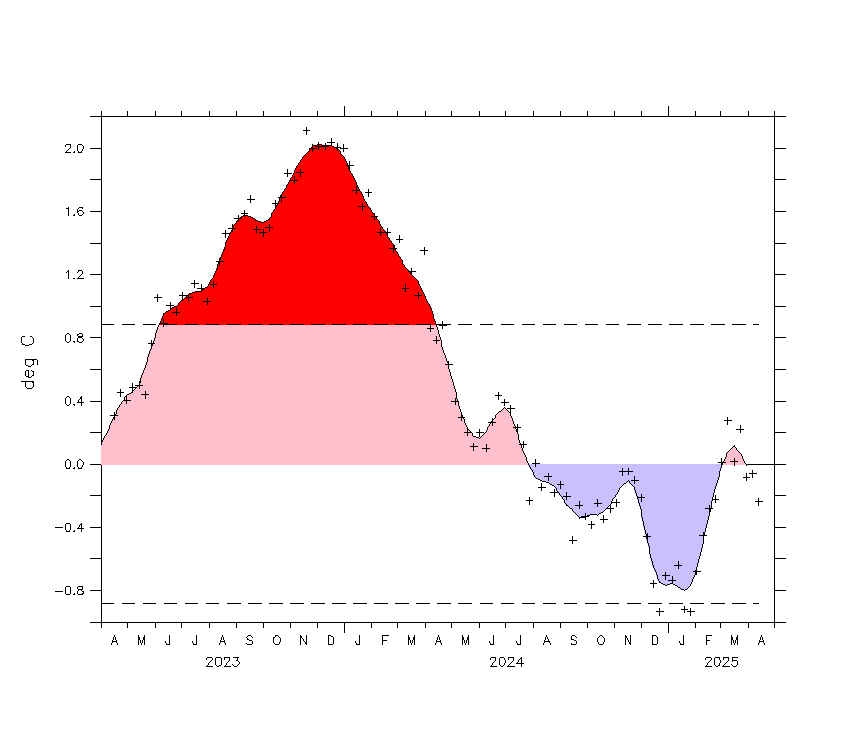 In an Jan 29 2014 article from Bloomberg Press (El Nino May Return) Australian Bureau of Meteorology scientists report that seasonal climate models are indicating a return to El Niño conditions after a five year hiatus.  Warming of the Tropical Pacific has been detected and expected to continue through the next six months leading to the El Niño condition.  Scientists are concerned that a return to El Niño will have disruptive effects on food production, especially rice and wheat crops, as well as forage for cattle. The article elaborates the situation regarding food production and recent flucuations of prices worldwide. As forecasts of this type become more accurate and reliable, we can see how important Ocean Services such as forecasts of equatorial ocean temperatures, will be to the world's economy.  
2012 Higher Equatorial Temperatures May Lead to El Niño
GOOS temperature data is the basis of this graph of the El Niño3.4 index which is an indicator of central tropical Pacific El Niño conditions and can indicate the onset of the El Niño or La Niña, ocean/atmosphere circulation patterns of the Pacific Equatorial Ocean which affect weather worldwide.
2012 has seen a warming in the El Niño3.4 index, indicating a transition from La Niña to El Niño conditions. Sea surface temperatures during July continued to rise and trend warmer than average across the central and eastern equatorial Pacific Ocean, the region where ENSO conditions are monitored. According to NOAA's Climate Prediction Center, El Niño conditions will likely emerge by September.
2011 Australian Flooding May be a Response to Strong La Niña
The Summer 2009 to Spring 2010 upturn into the red indicated anomalously warm conditions often associated with El Niño events, which peak in boreal fall/winter. A full year later, in 2011, a strong dip into cooler temperatures indicated a strong La Niña. 
The 2011 extraordinary flooding throughout Australia may have an explanation in sea temperatures ten thousand kilometers away, off the coast of South America. This year the equatorial waters of the Pacific are much cooler than normal and developed into a strong La Niña (the cool sister to the warm El Niño), which brings large changes in weather patterns worldwide. During a La Niña Australian scientists usually anticipate somewhat increased summer (Dec. - April) rainfall for eastern and northern Australia and more cyclone activity. However, this year's La Niña is heading for the record books, something the flood victims in Brisbane do not need reminding of.
Scientists distil ocean and atmosphere observations into a few indexes which can indicate the strength and trends of El Niño / La Niña development. Several of these indices may be seen on the GOOS Watch page maintained by the Ocean Observations Climate Panel, OOPC, OOPCweb. This year the Southern Oscillation Index (SOI) value for December 2010 is the highest on record, and the temperature variations of the equatorial ocean are 4 degrees cooler than normal.  In fact, the last time that the SOI or ENSO indices were this extreme occured in 1974, the time of the, up to now, greatest floods in Australian history. For more indices see OOPC State of the Ocean Climate site.
The La Niña is characterized by anomalous cold water spreading over the equatorial Pacific, fed by cold water upwelling along the coast of South America.  A pool of warm water accumulates just north of Australia.  See NMOC Ocean Temperature anomalies below.  This figure is a result of satellite observations of Sea Surface Temperature with ground truth provided by the GOOS Drifting buoy array and Argo profilers.  A usual La Niña  will cause increased convection and cloudiness over tropical Australia and the equatorial SE Pacific Islands, with stronger than normal trade winds from the east across the whole Pacific.  Global weather pattern changes for La Niña drive increased rainfall in Australia and droughts in Argentina mountains and the Great Plains of the USA. For more details: Australian BofMet Comments and USA NOAA El Nino Page and SciAmer Article
While weather is difficult to forecast accurately a few weeks in advance, the ability to predict seasonal changes in rainfall patterns has improved greatly in recent years, thanks to improved measurements of ocean heat content. Ocean temperature distribution dominates the driving forces for Monsoons and the Equatorial Pacific El Niño / La Niña system. Climate change in the average heat content of the ocean has had the effect of making the natural variability in El Niño / La Niña and Monsoon intensity swing more widely from extended droughts to extreme flooding rains. In the summer of 2010 the Australian Bureau of Meteorology was correctly predicting the coming La Niña, but at that time they were not able to anticpate the magnitude of the increasing rainfall.  Regrettably, longer forecasts are very difficult. A complicated feed back system exists of warmer water causing higher humidity which condenses in clouds to cause rainfall hundreds to thousands of kilometers distant which in turn may, or may not, cool the ocean leading to La Niña. Complicating these atmospheric forcings are grand circulation patterns of the whole Pacific which involve gigantic subsurface motions which bring cool water to the surface or pull down warm surface waters.  These patterns, which have time scales of months to years, interact with atmospheric and seasonal changes to complete the formation of El Niño / La Niña's.  While we have little ability to predict the onset of El Niño / La Niña years in advance, the observation networks now make it possible to identify the early developing factors which may lead to an event the next season. 
As we always say at this point, much more research is needed.  But this isn't rocket science, it is far more complicated!
The latest update on La Niña from the International Research Institute for Climate and Society. CLICK HERE   The IRI also has a number of resources on the El Niño-Southern Oscillation, including a downloadable map of where (and when) La Niña is likely to affect rainfall patterns around the world. Please visit http://iri.columbia.edu/enso for a complete list of resources.